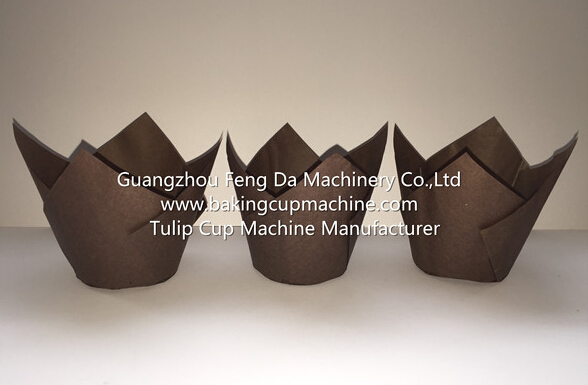 Is your business in need of the best manufacturing machinery for paper packaging in baking environment? If yes then trust this 
tulip cup manufacturing machine. We Guangzhou Feng Da Machinery Co. Ltd are the tulip cup machine manufacturer and 
have a rich experience of 20 long years. 
Here are some of the features of this machine which is ready to shake the market of baking cups.
1.DUAL STYLED CUPS: This machine can manufacture two types of cups. One cup is inspired by Chinese style while the 
other is European style. The Chinese one is a little sleek while the European one is wide. The Chinese styled cup has the 
overlapping folding inside and all the flaps are not folded towards same direction while the European one has one 
overlapping. The European cup is formed in circular direction and all folds are done towards the same direction. 
2.HIGH SPEED: The machine has an unmatchable speed which can manufacture 60 pieces per minute. This shows that it has
a high production capacity and can be fruitful for a business unit which deals in manufacturing of cups. It has a high rate of 
output which can bear high profits for your concern. The figure given above is free from defects. This means that if the machine
 operates at highest speed then the 60 pieces which you get after one minute are all usable ones. There is no defect in them. 
Thus its average speed of manufacturing one cup in one second is commendable.
3.PAPER SPECIFICATION: There are different types of papers which can be inputted in this machine to prepare the cups. 
As the baking is favorable in greaseproof paper to keep the baked material fresh and non sticky it manufactures paper cups 
made up of this material. It also manufactures cups with the help of PET coated paper. Along with this there are many other 
paper materials which can be fed into this amazing machine. The specification of paper ranges between 50gsm ~ 120gsm and
 can produce tulip cups ranging between 110mm ~ 250mm.  
4.MANAGEABLE WEIGHT: The machine is manufactured with such a structure which occupies the minimum space. 
The weight is around 250 kilograms but it is quite manageable because of innovative structure of the machine. 
5.OTHERS FEATURES: The machine has a total power equivalent to 1.5 and consumes 220 Volts of power supply. The air 
supply which supports the functioning of the machine is 0.9 Mpa. The tulip cup machine is available in manual, 
semi automatic, automatic and PLC Controller modes.
Paper cups are the best to use as they are easily disposable, easy to use, recyclable and eco-friendly. Our aim is to provide 
the product which can be used in home as well as for commercial purpose. Our unique designs and highest quality products
 are liked by customers all around the globe. We offer warm and welcoming after sales service. So if you have any issues 
with the product delivered to you then our representatives are here to help. We shall assist you how to operate the machine
 and all the issues relating to your device. Just contact us without any hesitation. 

Latest posts by Kevin Luo (see all)